Regular price
$ 169.99 USD
Regular price
Sale price
$ 169.99 USD
Unit price
per
Sale
Sold out
Perfect for Gamers & Content Creators: The GC551G2 records 4K30 gameplay, supports high refresh rates up to 1080p240, and VRR pass-through at 1440p120 or 1080p120.
Ultra-low latency:

Experience virtually no delay in the pass-through signal, ensuring a smooth and responsive streaming or gaming session.

Plug & Play: No complicated setup required- Stream effortlessly by connecting the capture card to your Mac or PC.
Wide Compatibility: Capture crystal clear gameplay from popular consoles like PS5, Xbox One X/S, Switch, and Mini NES on PC and Mac. Stream on various platforms including YouTube, Twitch, and more using AVerMedia RECentral.
TAA/NDAA Compliant:

 

Meets requirements of the Trade Agreements Act (TAA) and the National Defense Authorization Act (NDAA) for government procurement and national security compliance.
Technical Specifications

Interface: USB 3.2 (Gen 1) Type-C (plug and play, UVC)
Video Input: HDMI 2.0
Video Output (Pass-Through): HDMI 2.0
Audio Input: HDMI 2.0 / 3.5 mm Line In (3-Pole)
Audio Output (Pass-Through): HDMI 2.0 / 3.5 mm Line Out (3-Pole)
Max HDR Pass-Through Resolutions: 2160p60 / 1440p120 / 1080p240
Max VRR Pass-Through Resolutions: 1440p120 / 1080p120
Supported Resolutions (Video Input) : 2160p, 1440p, 1080p, 1080i, 720p, 576p, 480p
Max Record Resolutions: 2160p30 / 1440p60 / 1080p60
Record Format: MPEG 4 (H.264+AAC) or (H.265+AAC)
Dimension: (W x D x H): 112.5 x 66.1 x 20.9 mm (4.43 x 2.6 x 0.82 in)
Weight: 85 g (3 oz)

Notes:
1. LGX3 does not support viewing/recording/streaming of HDCP protected signals
What's In the Box

Live Gamer EXTREME 3 (GC551G2)
Type-C to Type-A Cable
HDMI 2.0 Cable
Quick Start Guide
System Requirements

Windows®10 x64 / 11 x64

Desktop: Intel® Core™ i5-6XXX + NVIDIA® GeForce® GTX 1060 or above
Laptop: "Intel Core i7-7700HQ + NVIDIA GeForce GTX 1050 Ti or above
8 GB RAM recommended"

macOS 11 / 12

3.6 GHz quad-core Intel Core i7
Radeon Pro 555 with 2 GB of VRAM
16 GB of 2400 MHz DDR4 memory

Notes:1. LGX3 does not support USB 2.0 2. We strongly recommended to use Intel chipset.
Share
View full details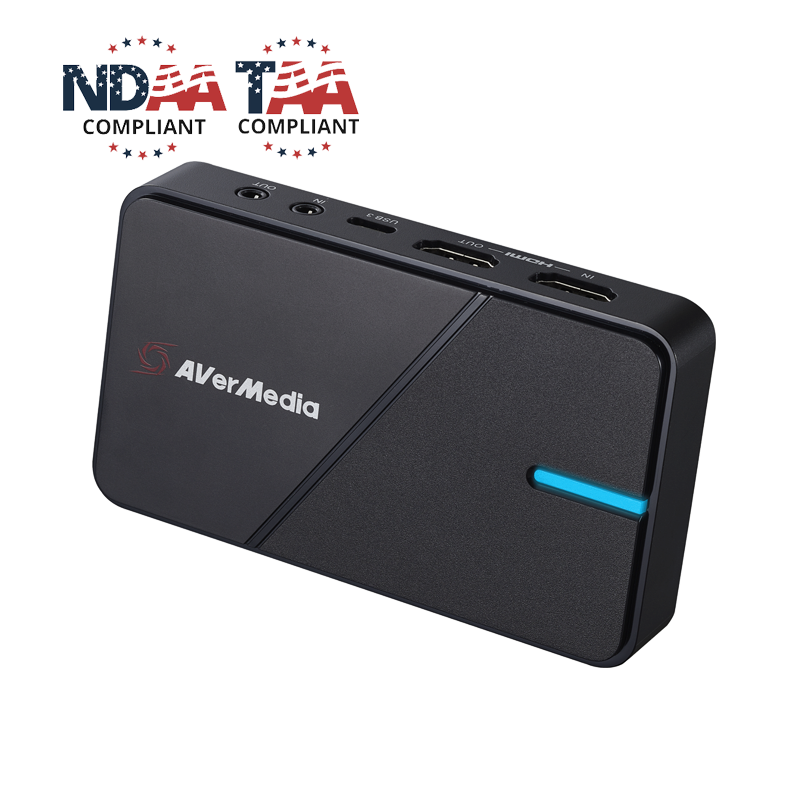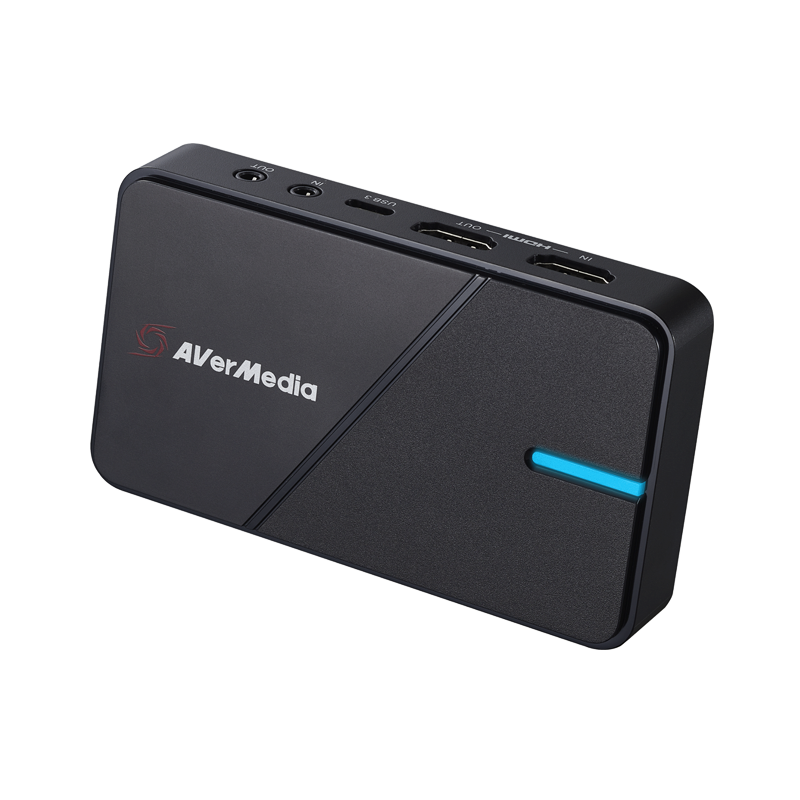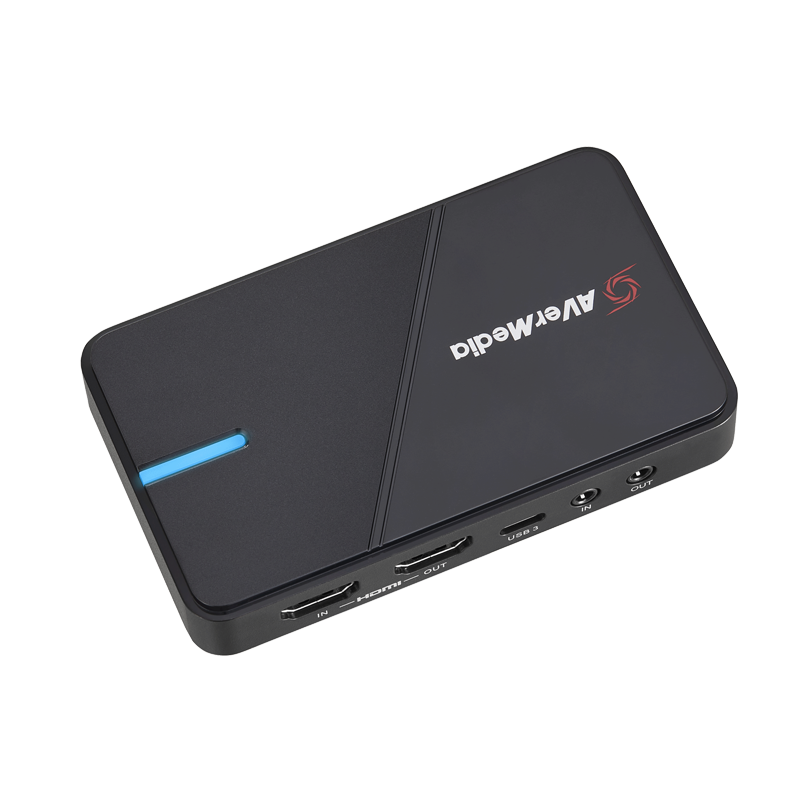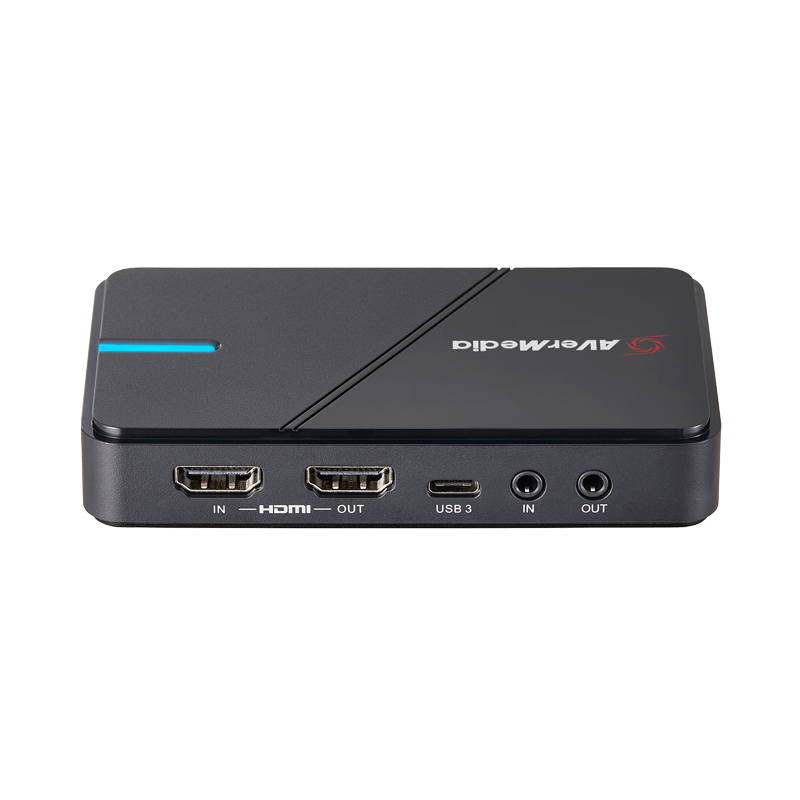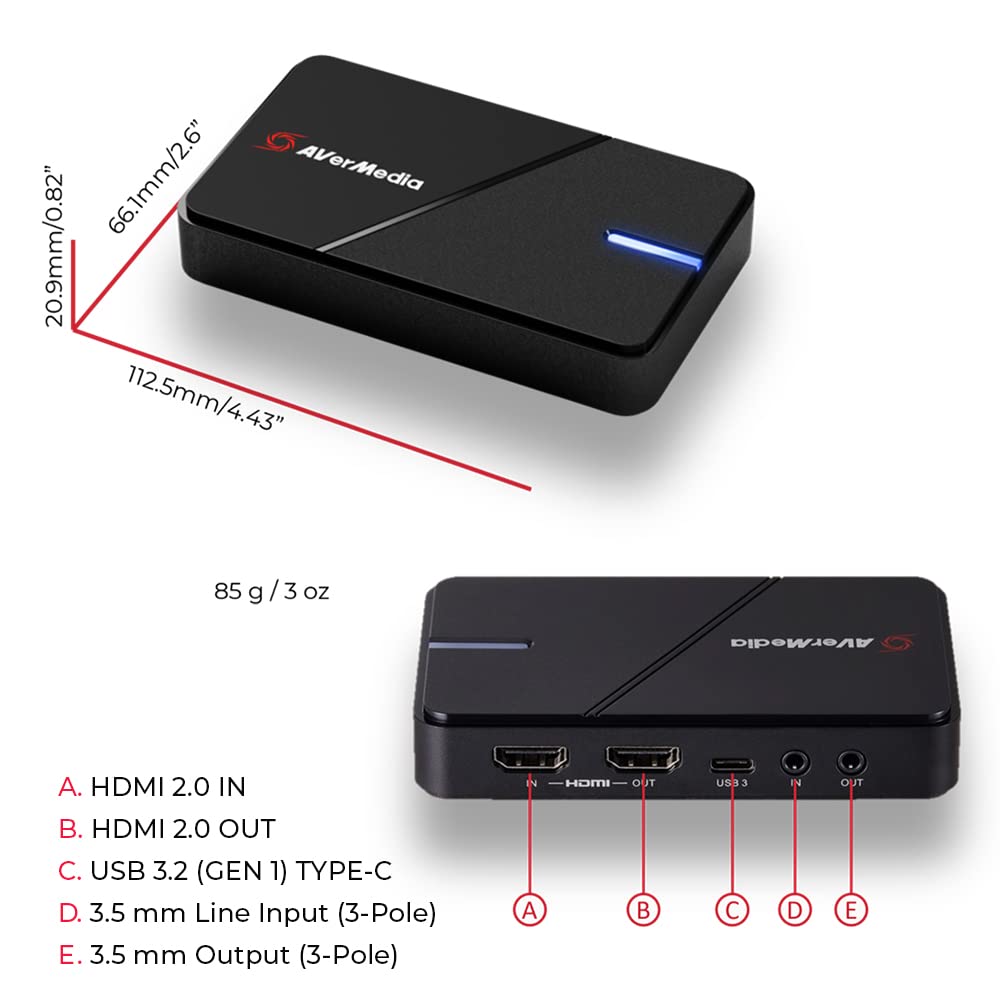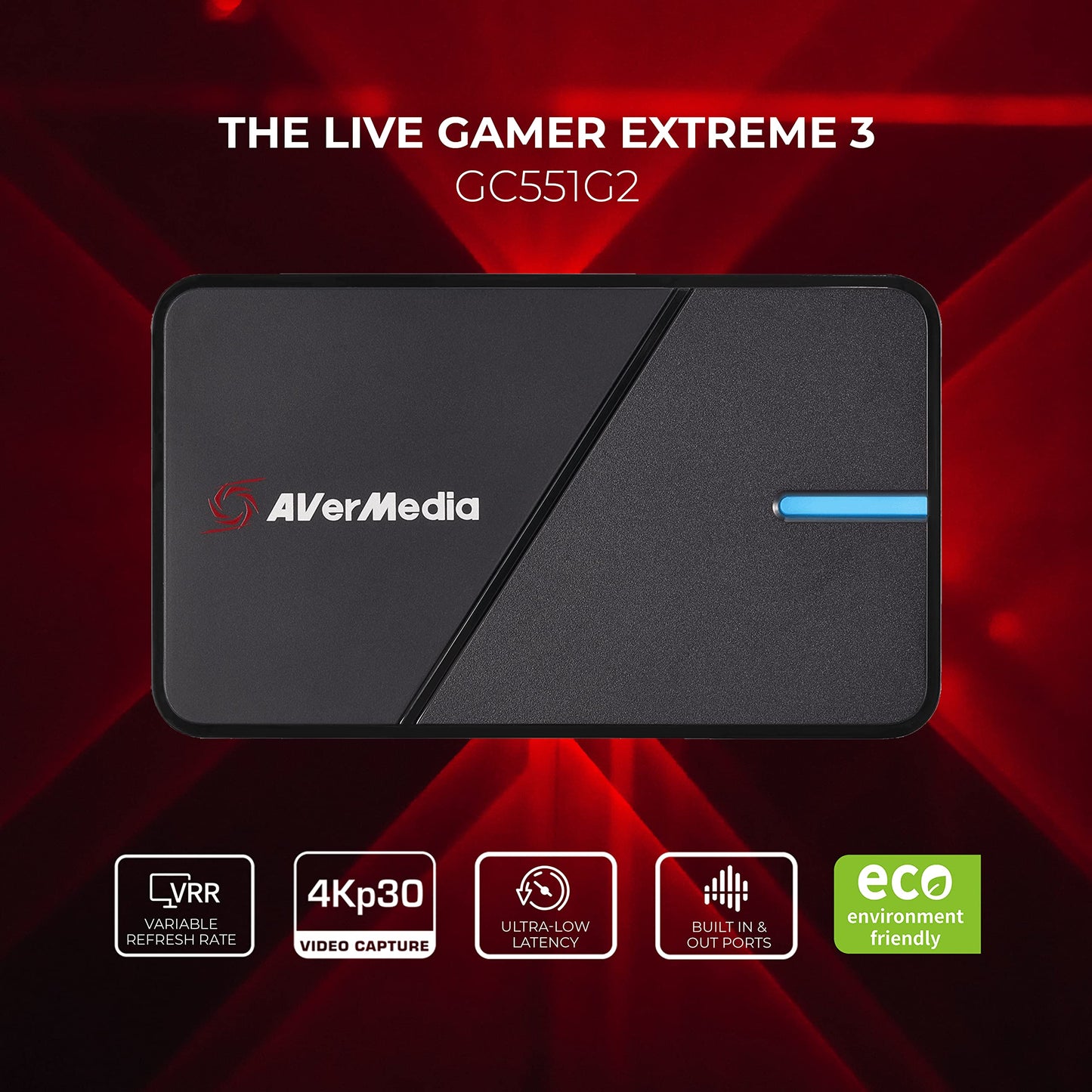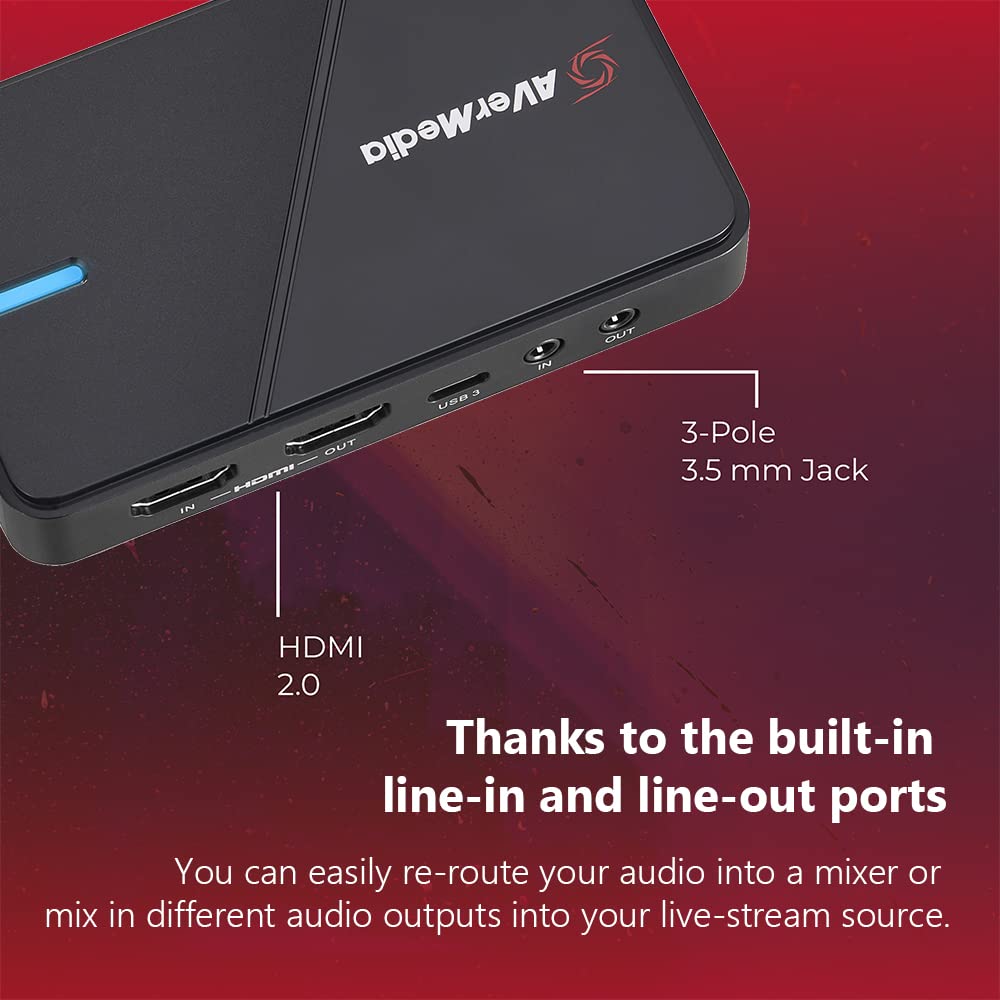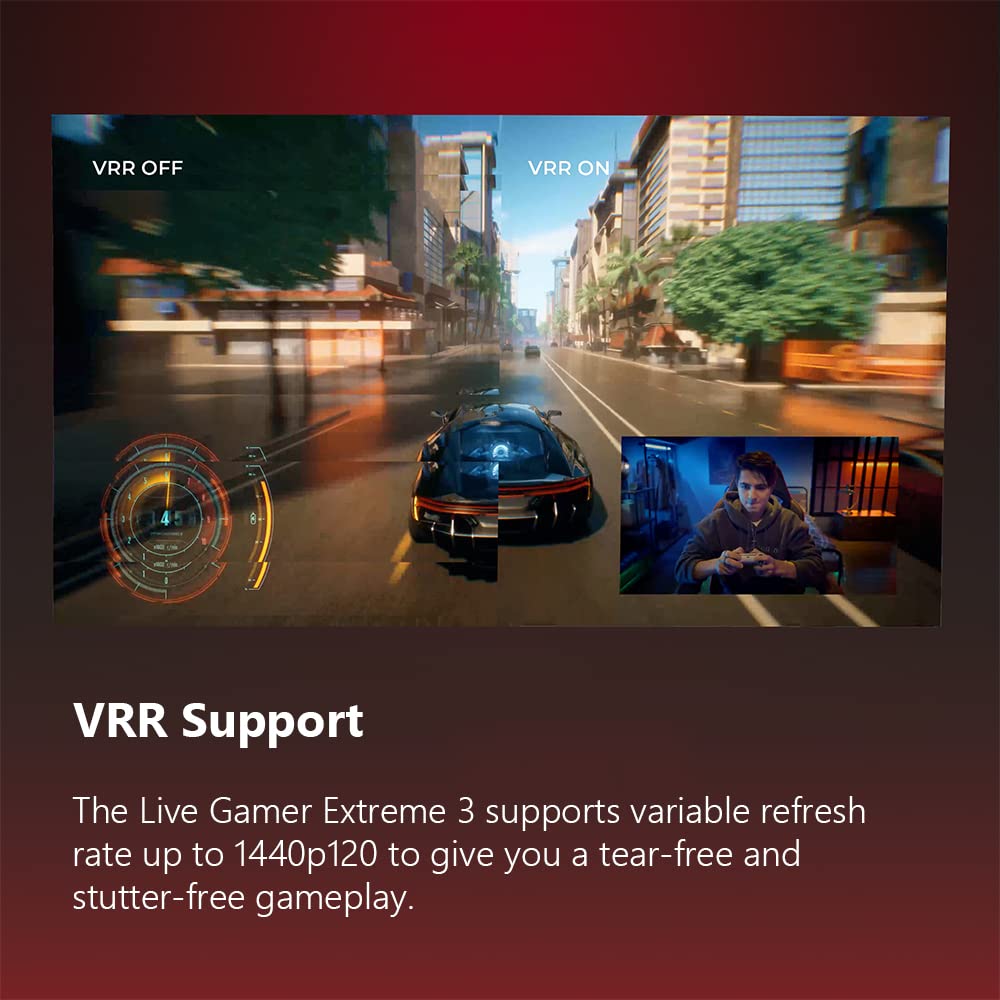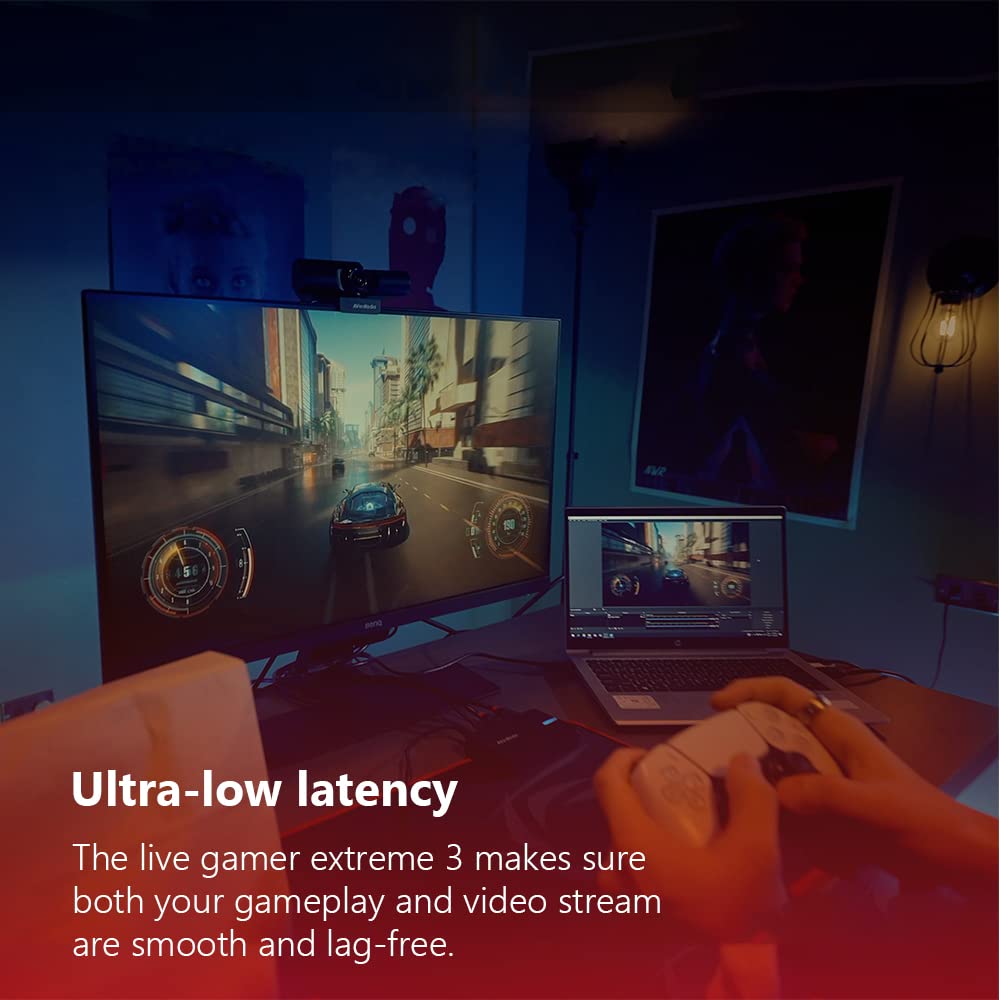 Easy to Use. Awesome Company Support.
This is the first capture card that I have had the pleasure to use. There are various connection options that allow connectivity through HDMI and USB, and also audio connections through 3.5mm cables.
The Avermedia website is fantastic and made it easy to setup and start using the device right away. If you do not have your own recording software they offer their own package built for recording straight from this device.
If you plug it into a PC you can also use it as a Video Input Source and record directly in your favorite software easily. With 4K support the visuals are great and I did not notice any lag while using it.
I have used it to record Nintendo Switch gameplay, and have used it multiple times to stream computer output to my laptop for recording and because I do not have any auxiliary monitors to connect to them.
This has been a fantastic and easy-to-use little device. It is super portable and easy to carry around and I love using it and look forward to using it a lot more in the future. If you're interested in capturing, recording, and/or streaming your gameplay you need to check out this capture card as I think you won't be disappointed.
AVerMedia is amazing.
Definitely a great capture card, absolutely recommended for those that are looking for something effective in recording and streaming.
Works great for passthrough and recording
My use case for screen recording is a little different as it's not for fast gaming, and just screen recording the use of general software applications. Works perfectly for me.
Multi platform compatible 4K gaming capture card with ultra low latency that won't break the bank
This is my first time using a capture card. The card comes with everything needed for set up. Set up was simple, even for a beginner like me.
I have used it on my Xbox, Switch, and mobile. The video and picture quality is amazing. I have had zero issues with lag. The VRR is nice, but I have nothing to really compare it to.
This card would be a great option for someone not wanting to spend a few hundred or more on one of these.
Overall, this card has performed very well.
Amazing low latency feature
There are a few things to love about this gaming capture card. It is advertised as being perfect for gamers and for content creators, especially if you do both like me! I am constantly buying devices to save data and store information from my streaming platforms, but it is getting cluttered and I find that these other hard drives aren't as easy to access and can't be used during streaming, only after. However, this one plugs into your console or PC while you are gaming to record and store your information. It is easy to use this because you don't ever have to do one mega download as some other ones require–simply unplug whenever you're ready and it is good to go. Otherwise, this has a fantastic low latency feature where it doesn't cause any kind of lag when you're streaming even though it is collecting information.
The only thing I don't like about this console is that it has a horrible customer service team. When it came in the mail, I initially thought that the cord it was supposed to come with was missing (turns out it was just hiding taped to the underside of the plastic compartment–weird), but I contacted customer service to help with this issue. You can't talk to a real human at all no matter how many different avenues you take with the robot. Their answer is always about the actual technology and not about practical issues you might be having.
If you're okay with a shotty customer service team, this is a pretty awesome capture card and I recommend it to gamers!
VRR Game Play
With VRR support, the Live Gamer Extreme 3 ensures a smooth gaming experience on your next-gen consoles, PS5 or Xbox Series X/S.
Ultra-Low Latency
With nearly zero latency on the pass-through signal, and ultra low latency through to the streaming signal, the Live Gamer Extreme 3 makes sure both your gameplay and stream are smooth and lag-free.
Plug & Play
Simply plug in your Live Gamer EXTREME 3 along with HDMI and it is ready to stream. It is a simple and easy-to-use capture solution. You can extend its functions by using AVerMedia RecCentral.
Small but Powerful
Multistream

With AVerMedia RECentral 4, you will be able to push your content to multiple platforms suach as YouTube or Twitch simultaneously,

Pocket-Size

Pair text with an image to focus on your chosen product, collection, or blog post. Add details on availability, style, or even provide a review.

Audio Line In & Line Out

Due to the built-in Line-In and Line-Out connection, it is a breeze to re-route your audio into a mixer or mix in different audio outputs into the stream source.