Regular price
$ 99.99 USD
Regular price
Sale price
$ 99.99 USD
Unit price
per
Sale
Sold out
Full HD HDMI Game Capture Card: The Live Gamer Mini compact in size but mighty at performance, records your gameplays at clean and crisp 1080p 60fps video quality
Zero-Lag Pass-Through Video: This capture card provides optimized gaming experience by delivering 100% zero latency at Full HD 1080p 60fps HDMI pass-through
Plug & Play: With UVC-technology, simply plug it on the USB 2.0 or USB 3.0 port of your Windows or Macbook Pro computer without any driver installation
H.264 Hardware Encoder: The video and audio streams are processed by the capture device's hardware encoder without putting any load on your computer's CPU
Wide Compatibility: This HDMI video capture card works with Nintendo Switch, PS4/PS5, Xbox One 360, Xbox Series X/S game consoles; Supports live streaming on Twitch/Youtube via mainstream RECentral 4, OBS Studio, Streamlabs OBS software
Technical Specifications

Interface:USB 2.0 (USB Micro)
Video Input:HDMI
Video Output (Pass-Through):HDMI
Audio Input:HDMI
Audio Output (Pass-Through):HDMI
Max Pass-Through Resolution :1080p6
Max Record Resolutions:1080p6
Supported Resolutions (Video input):1080p, 1080i, 720p, 576p, 480p, 480i
Record Format:MPEG 4 (H.264+AAC) / Supports hardware encoding
Dimension (W x D x H):100 x 57 x 18.8 mm (3.93 x 2.24 x 0.74in)
Weight:74.5 g (2.63oz)


Notes:1. LGM does not support viewing/recording/streaming of HDCP protected signals.2. LGM does not support 4K, HDR, wide angle resolutions or high refresh rates.
What's In the Box

Live Gamer MINI (GC311)
USB Micro to Type-A cable
Quick guide
System Requirements

Operating System : Windows ® 10 or later (Support UVC Protocol)Desktop

- Intel® i5-3330 or comparable (i7 recommended)
  AMD A10-7890K (Quad-core) or above
- NVIDIA® GTX 650 / AMD Radeon™ R7 250X or above are recommended
- 4GB RAM
Laptop

- Intel® Core™ i7-4810MQ
- NVIDIA® GeForce® GTX 870M
- 4 GB RAM (8 GB recommended)


Mac System Requirement:
Operating System: 
1.Mac with an Intel processor: macOS 10.13 or later
2.Mac with an Apple M1 processor: macOS 10.13 ~ macOS 11  (* Not compatible with macOS 12)

iMac 2013
- 2.9GHz quad-core Intel Core i5 processor
- NVIDIA® GeForce GT750M with 1GB of GDDR5 memory
- 16GB of 1600MHz DDR3L onboard memory
MacBook Pro 2013
- 2.5GHz quad-core Intel Core i7 processor
- NVIDIA GeForce GT 750M with 2GB of GDDR5 memory and automatic graphics switching
- 16GB of 1600MHz DDR3L onboard memory
MacBook Pro 2017
- 2.8GHz quad-core Intel Core i7 processor
- AMD Radeon Pro 555(2GB GDDR5) at least
- 16GB of 2133MHz LPDDR3 at least

*Notes: *4K video editing software. Does not support HEVC encoded files or HDR editing. Please note that this version of PowerDirector 15 is not the retail version and some functionalities may be restricted or require paid upgrades.
Share
View full details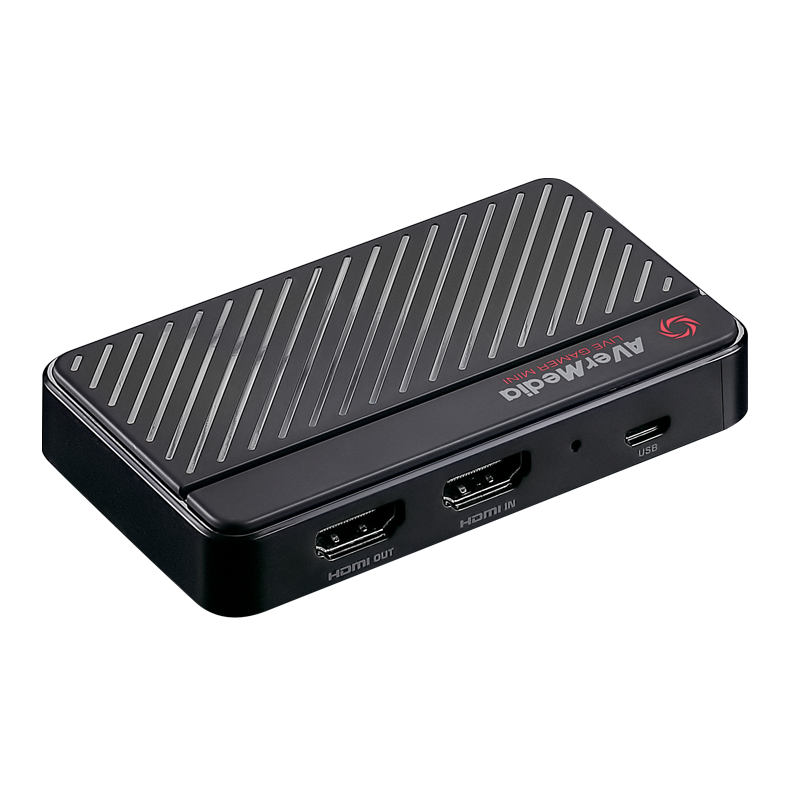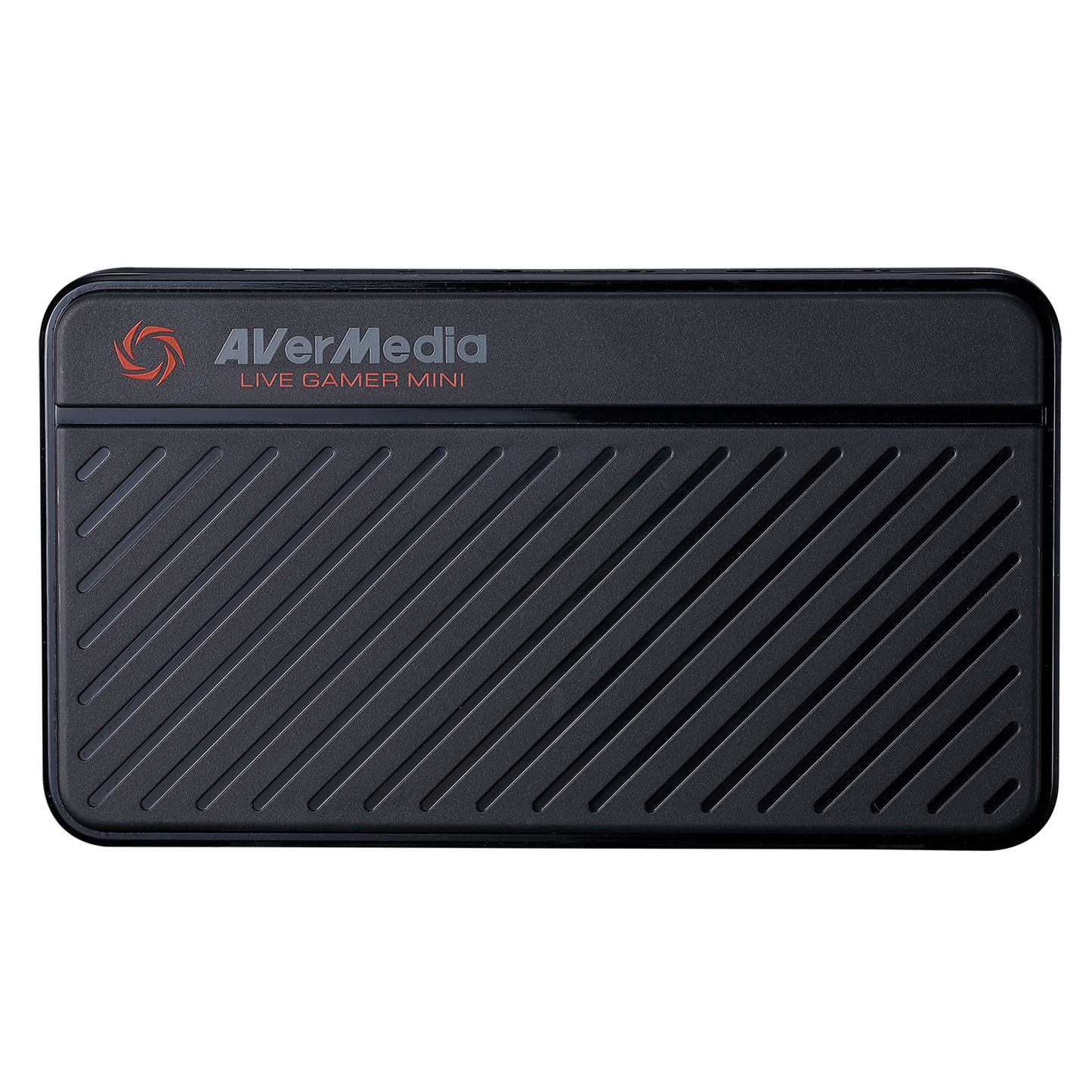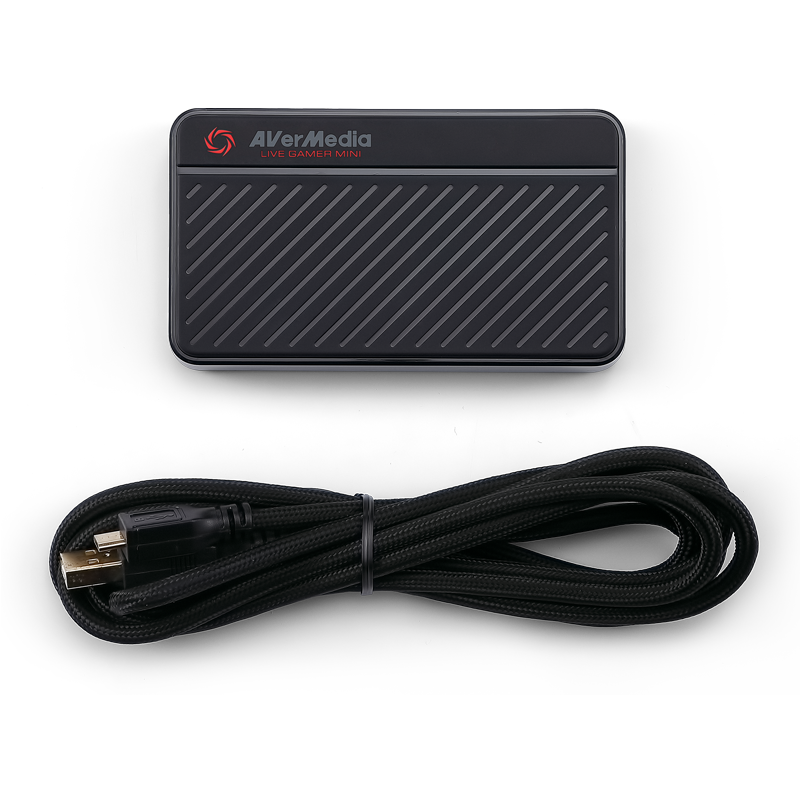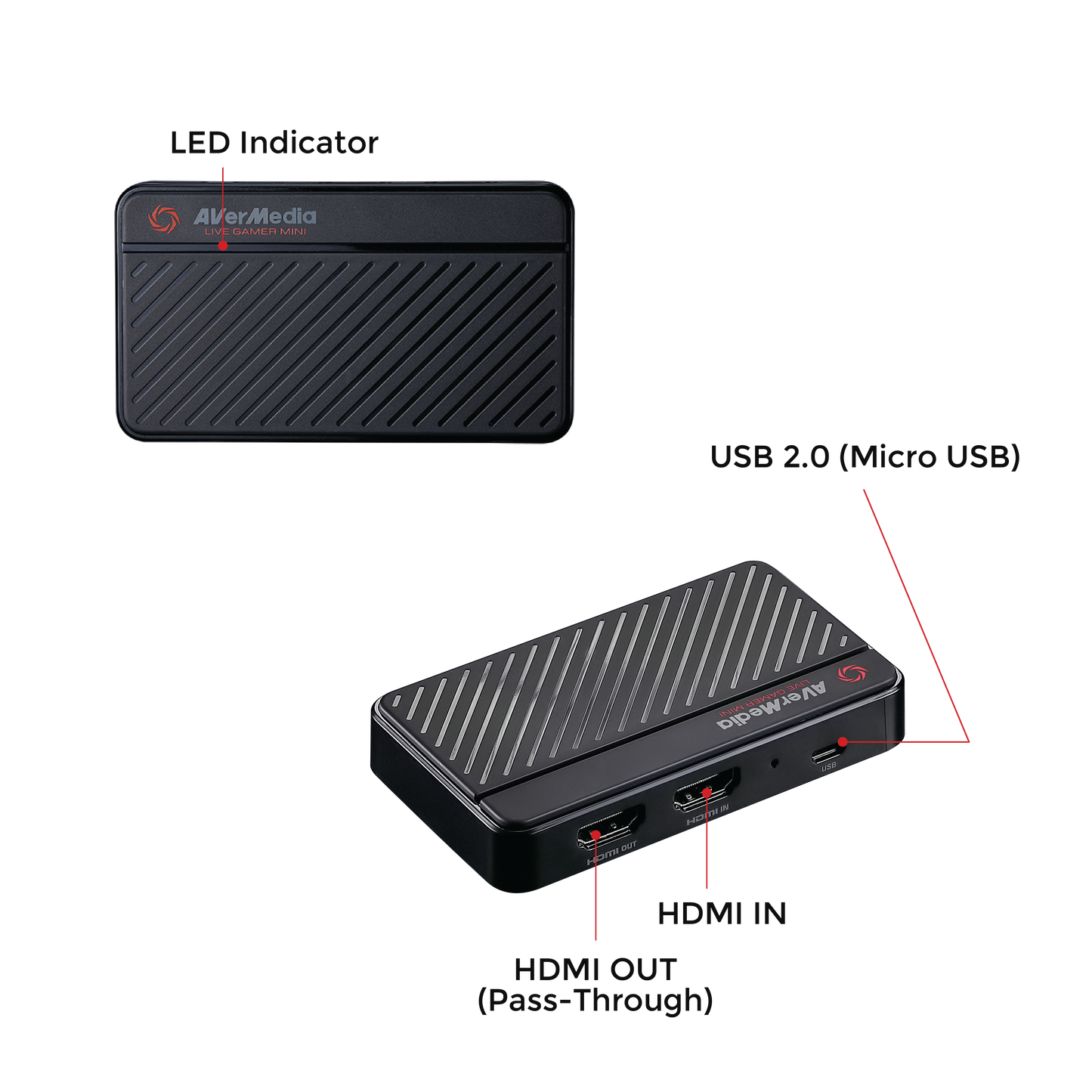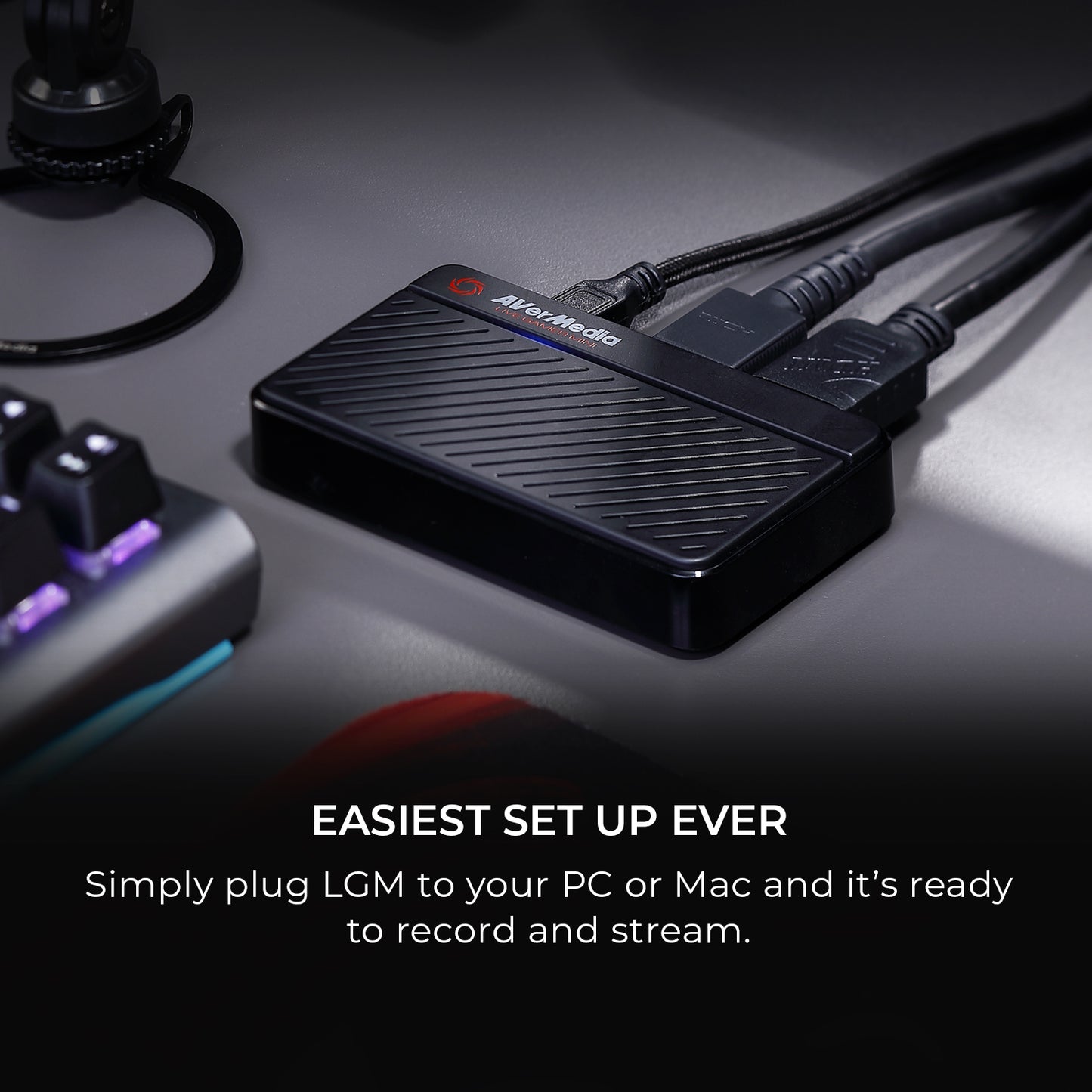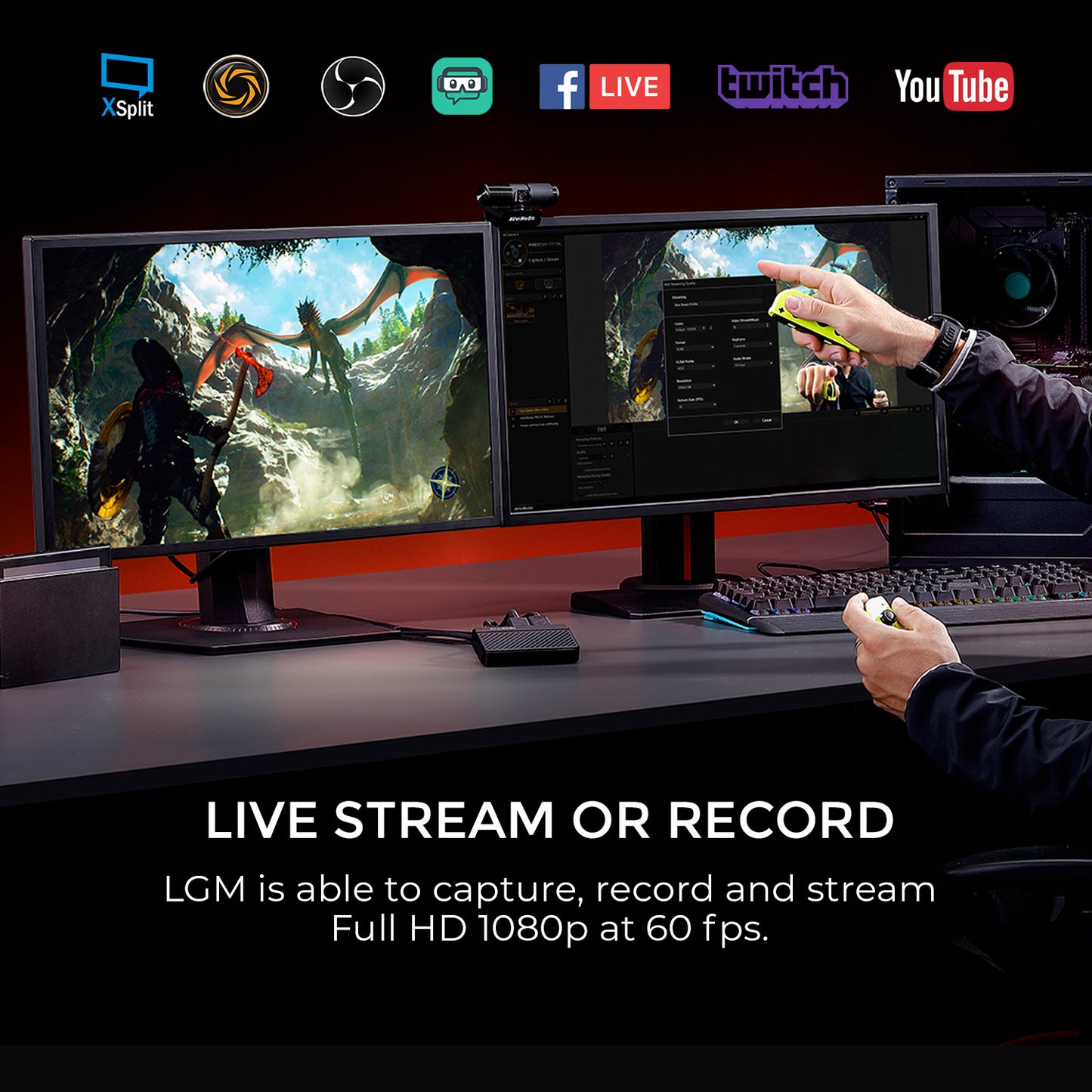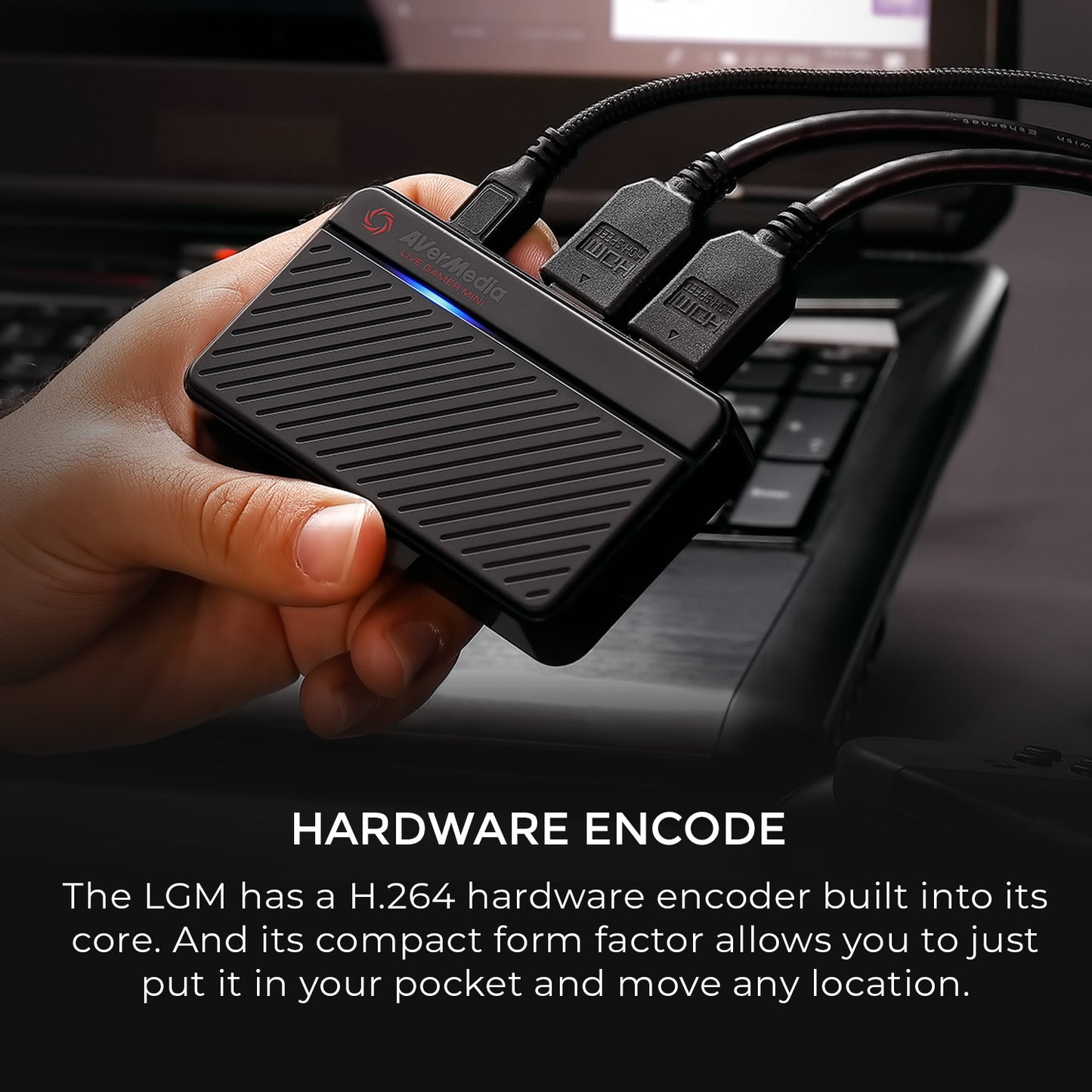 Able to play and stream on PC
Small, cute little thing that's more affordable than the Elgato. I am able to play Animal Crossing and Overcooked from my Switch perfectly fine. I am able to use this with OBS and WinCapture Audio as well. Very satisfied with this purchase. I recommend trying this before trying Elgato. I have used this nearly every day for the past two months for both streaming and for funsies.
Great, easy to use tool to get you started in live streaming!
As the go-to IT person in my Church congregation, I was asked to set up a live stream during the 2020 pandemic shutdown. I purchased a Canon Vixia HF R800 video camera and hoped to pair it with an Elgato Camlink. However, the Camlink was impossible to find anywhere, so I settled for Live Gamer Mini. In conducting my research prior to purchase, the reviews I read on the device varied. However, my experience with this device was great. To get my stream onto the internet, I am using a Windows 10 laptop running OBS. I connected my camera to the Live Gamer Mini and the Mini to my computer. It worked flawlessly the first time. Windows recognized the device. It was not necessary to download and install any drivers. While I do not know how this device compares to others, it works great for our intended purposes. I would highly recommend this to someone who is getting started in live streaming and is looking to save some money over similar Elgato devices.
Excellent product for the price, easy setup
This item works exactly as promised, with incredibly easy setup and hassle-free functionality. This is for the 1080P version, and using it to capture video from a console source via HDMI for use in OBS. Picture is crisp and I didn't notice any artifacts or lag.
Great product for a afordable price!
I was skeptical of this product. Am amazed how well it can stream at the rate it streams at!
I have been telling people of this brand, and how i enjoy it.
I mainly use this for my Nintendo switch.
Works with switch
It worked well with the Switch, and I used another adapter to stream my N64 as well. Getting it to work with OBS was a chore because you have to do something weird with the audio that it lines out in its manual but who reads those? Who reads these?
Live Gamer MINI StreamEngine (GC311) Guide
Connections Live Gamer MINI

• Use the provided USB cable to connect the LGM to a USB 2.0 port on your Windows 10 PC or Laptop

• Connect your display with an HDMI cable inserted in to the HDMI-OUT port on the GC311

• Use an HDMI cable to connect your device to the HDMI-IN port on the GC311

Technical Specifications

Interface: USB 2.0 (USB Micro)

• Video Input: HDMI

• Video Output (Pass-Through): HDMI

• Audio Input: HDMI

• Audio Output (Pass-Through): HDMI

• Max Pass-Through Resolution: 1080p60

• Max Record Resolutions: 1080p60

• Supported Resolutions (Video input): 1080p, 1080i, 720p, 576p, 480p, 480i

• Record Format: MPEG 4 (H.264+AAC) / Supports hardware encoding

System Requirements

Operating System: Windows 10 (Support UVC Protocol) Desktop - Intel i5-3330 or comparable (i7 recommended) AMD A10-7890K (Quad-core) or above - NVIDIA GTX 650 / AMD Radeon R7 250X or above are recommended - 4GB RAM Laptop - Intel Core i7-4810MQ - NVIDIA GeForce GTX 870M - 4 GB RAM (8 GB recommended)

Mac System Requirement: Operating System: macOS X 10.13 or later (Support UVC Protocol) iMac 2013 - 2.9GHz quad-core Intel Core i5 processor - NVIDIA GeForce GT750M with 1GB of GDDR5 memory - 16GB of 1600MHz DDR3L onboard memory

MacBook Pro 2013 - 2.5GHz quad-core Intel Core i7 processor - NVIDIA GeForce GT 750M with 2GB of GDDR5 memory and automatic graphics switching - 16GB of 1600MHz DDR3L onboard memory.

MacBook Pro 2017 - 2.8GHz quad-core Intel Core i7 processor - AMD Radeon Pro 555(2GB GDDR5) at least - 16GB of 2133MHz LPDDR3 at least

Note: Live Gamer Mini doesn't support or work with Apple Silicon (M1)