Regular price
$ 179.99 USD
Regular price
Sale price
$ 179.99 USD
Unit price
per
Sale
Sold out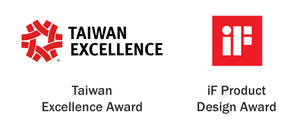 Flexible Desk Stand Boom Arm: Twist and bend this boom arm in various orientations for efficient podcasting, singing, and live-streaming sessions.
270° Vertical Rotation, 360° Swivel: Enjoy versatile positioning with a 270° vertical arm rotation and a 360° swivel base, supporting up to 3.9 lbs (1.8 KG) mics.
Discrete Cable Management: Keep your workspace tidy and professional with integrated cable management, minimizing cord clutter.
Mic to Webcam in Seconds: Switch from microphone to webcam, tablet, and DSLR camera use effortlessly. Mount most podcast mics (5/8") and cameras/webcams (1/4") quickly.

Easy Installation: Effortlessly install the C-clamp mount with its user-friendly design, allowing you to set up your microphone quickly and conveniently.
Technical Specifications

Boom Arm Type: Tube-style aluminum
Max Horizontal Rotation: 360 degrees
Max Vertical Rotation: 135 degrees Max Horizontal Extension:870 mm (34.3 in) Max Holding
Weight: 1.8 kg (63.4 oz) Desk Mount: C-clamp (up to 50 mm / 2.1 in) Cable Management:
Built-in cable management Dimension (W x D x H): 
870 x 82 x 50 mm (34.3 x 3.2 x 1.9 in) Weight:
Arm – 1.4 kg (50.9 oz) / C-Clamp – 0.4 kg (17.3 oz)
Package Dimension:
Unit: 67.7 x 17.5 x 13.3 cm (26.7 x 6.9 x 5.2 in)
Carton: 69.5 x 38 x 44.5 cm (27.4 x 15 x 17.5 in)
Shipping Weight:
Unit: 2600 g (5 lbs.)
Carton: 17.6 kg (38 lbs.)
(6pcs per carton)
What's In the Box

Live Streamer ARM
Cord Cover:75mm (2.9 in) x 4/150mm (5.9 in) x 2
Crosshead Hex Key
C-clamp
Quick Guide
Share
View full details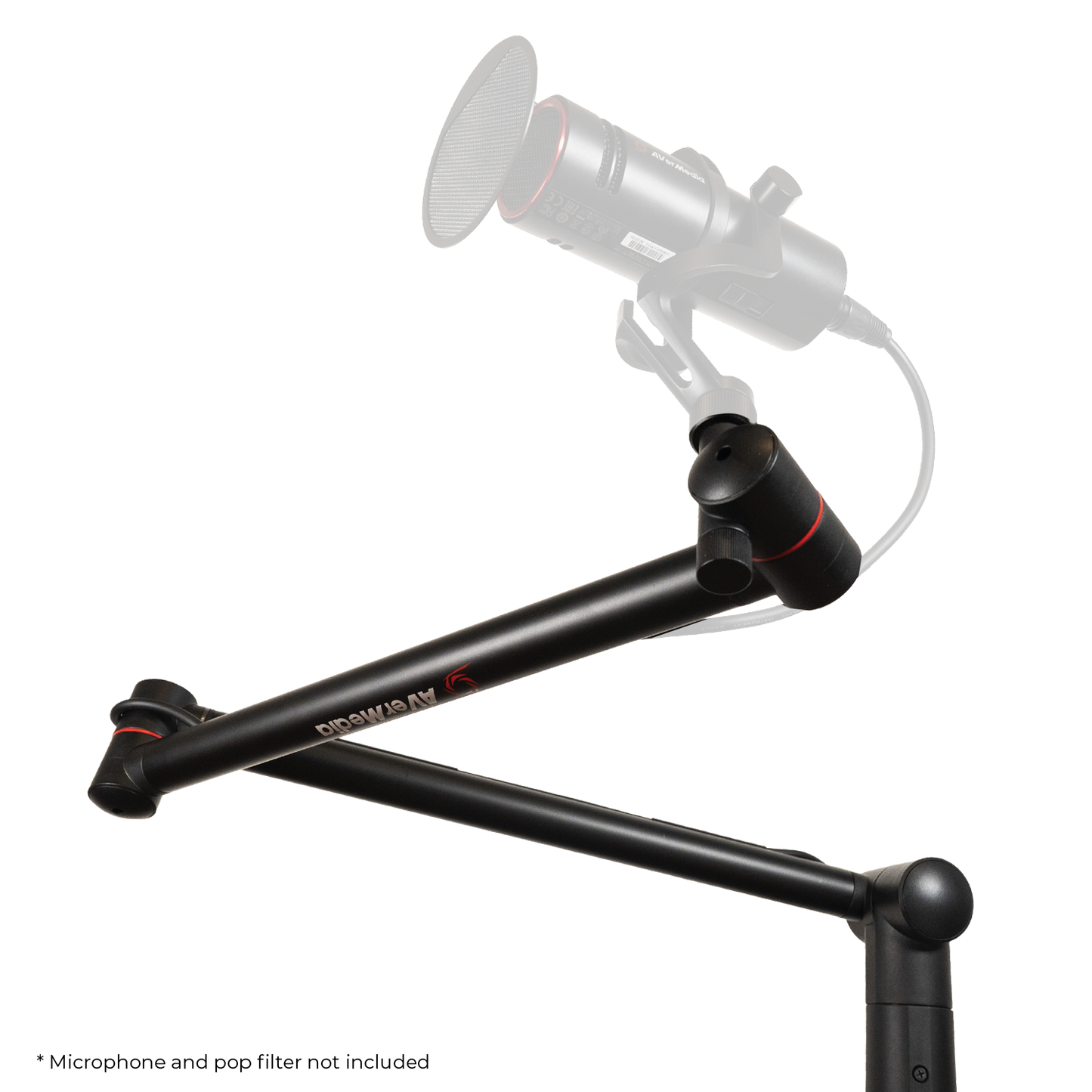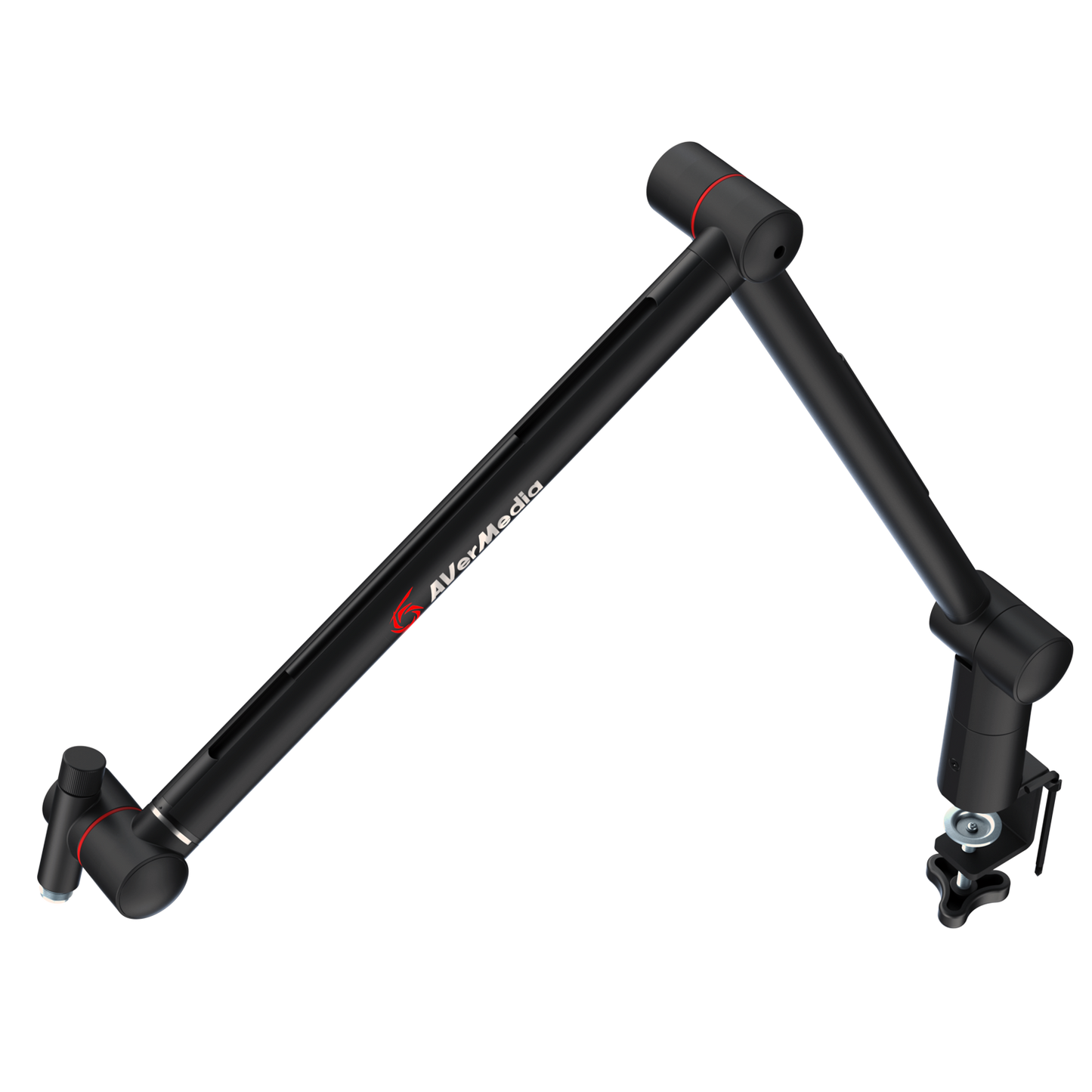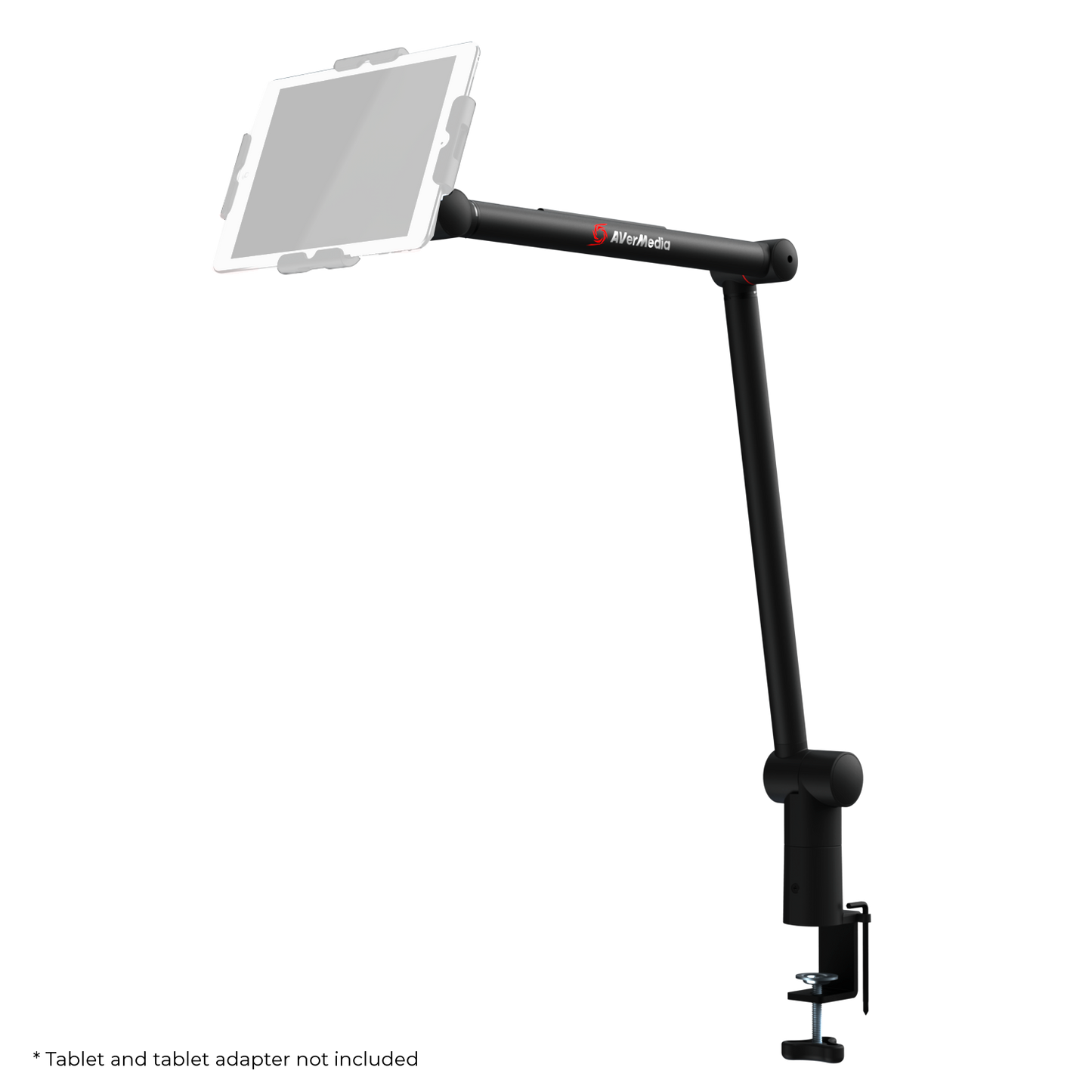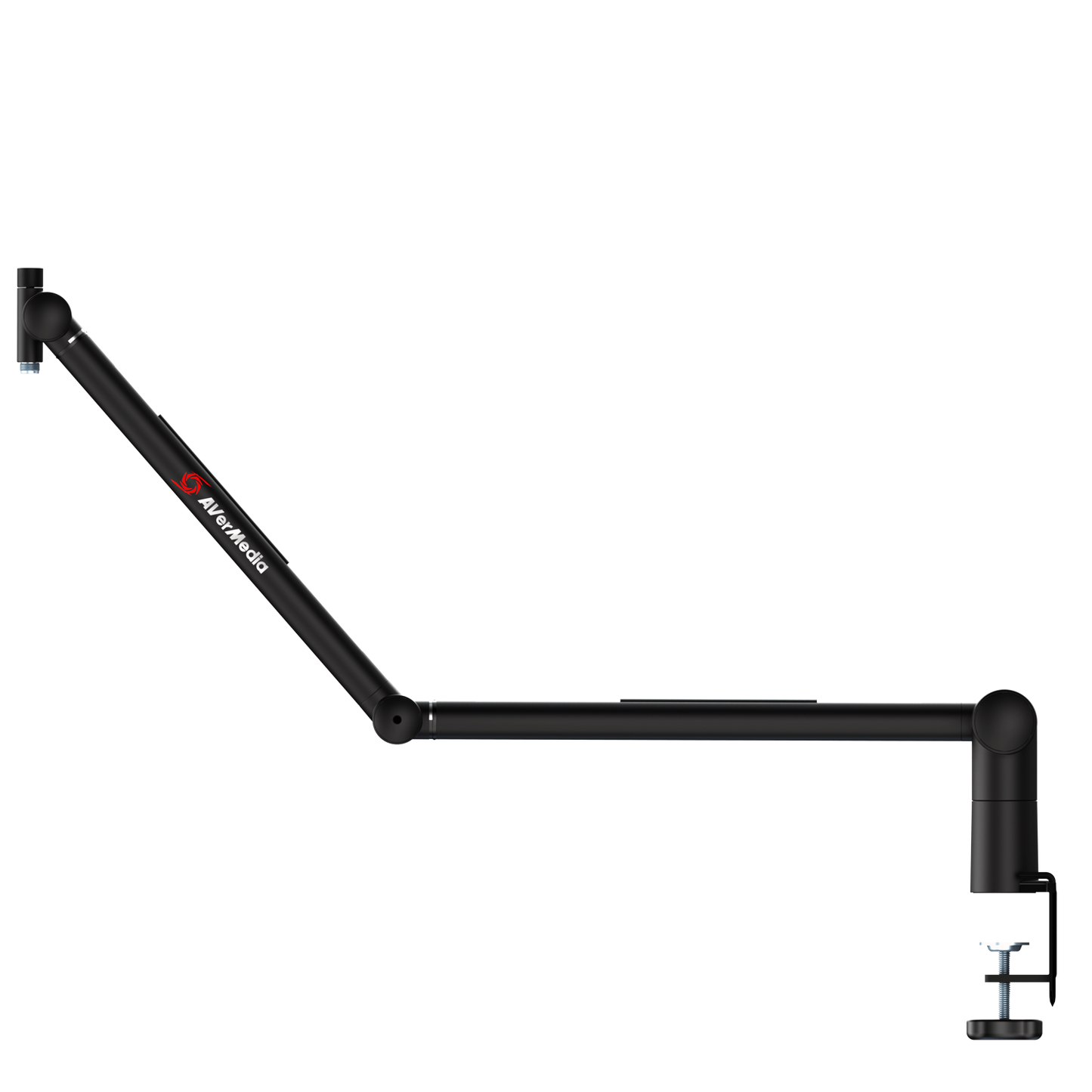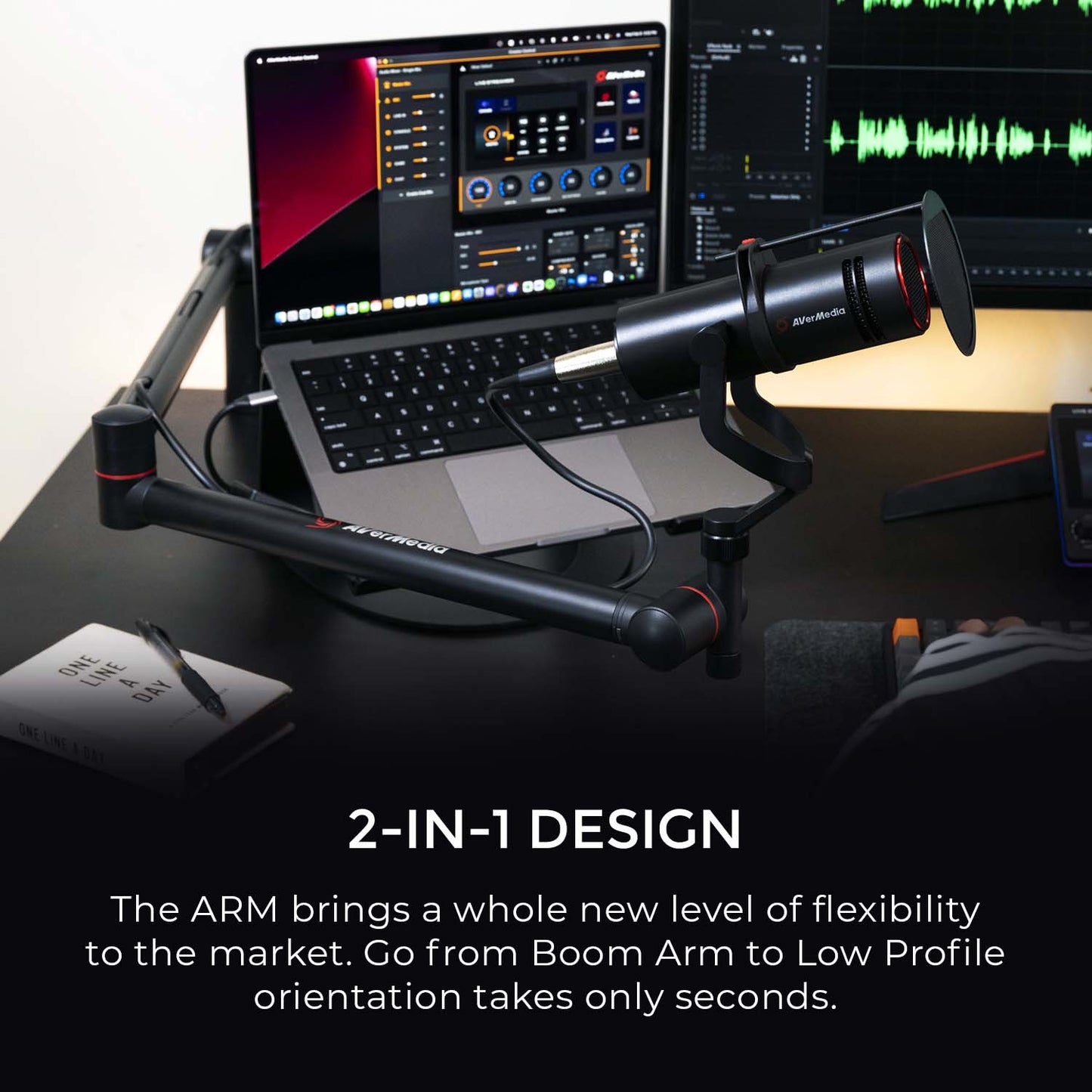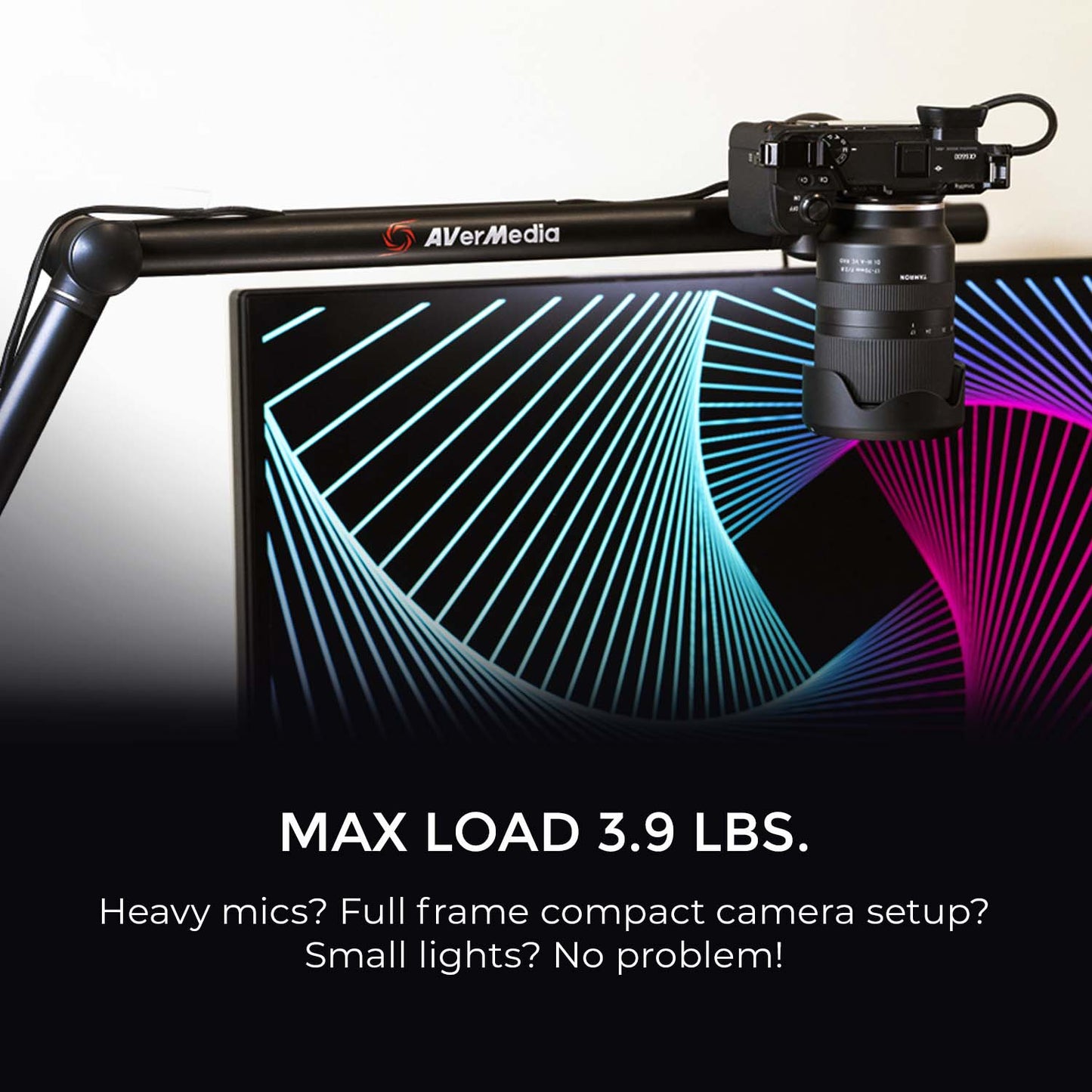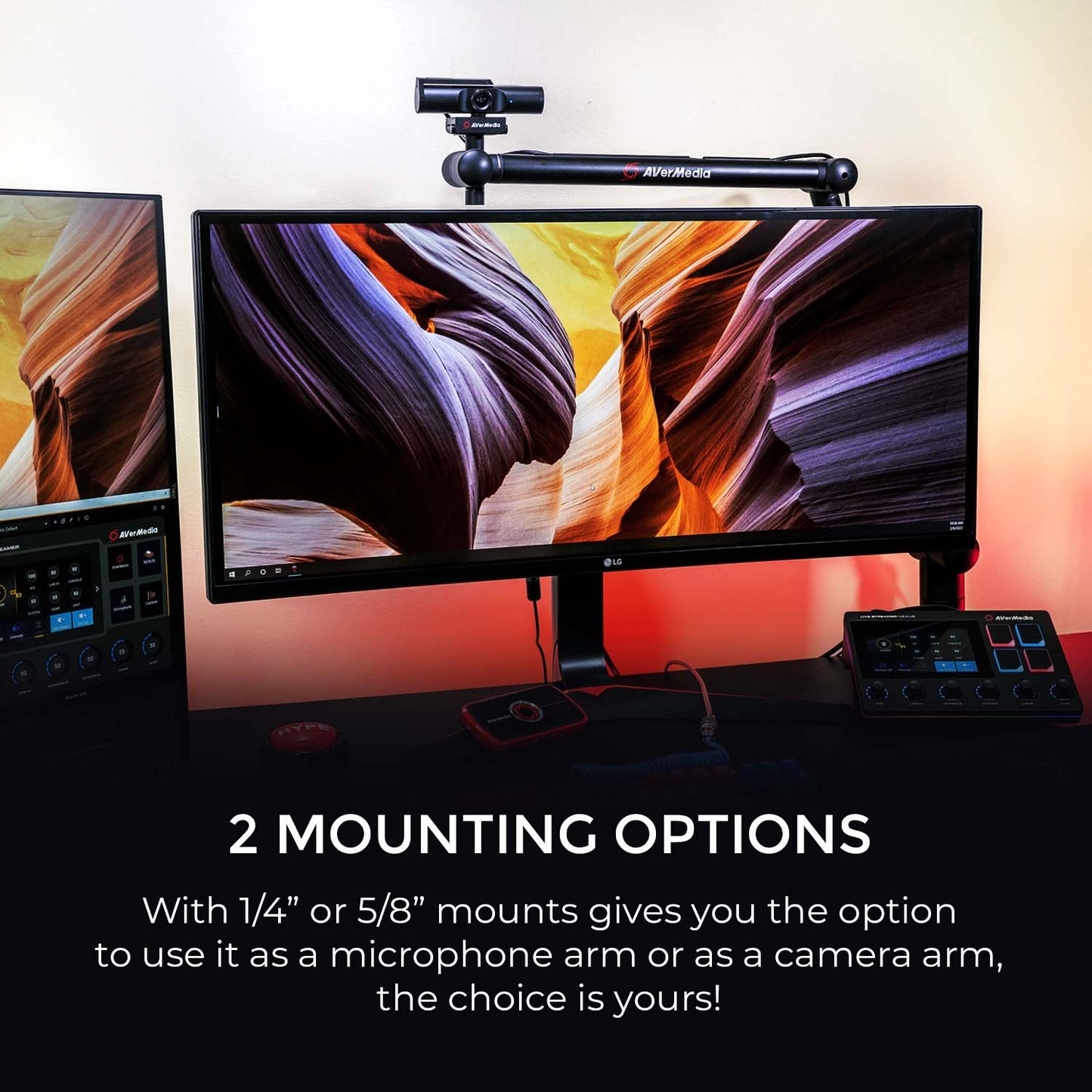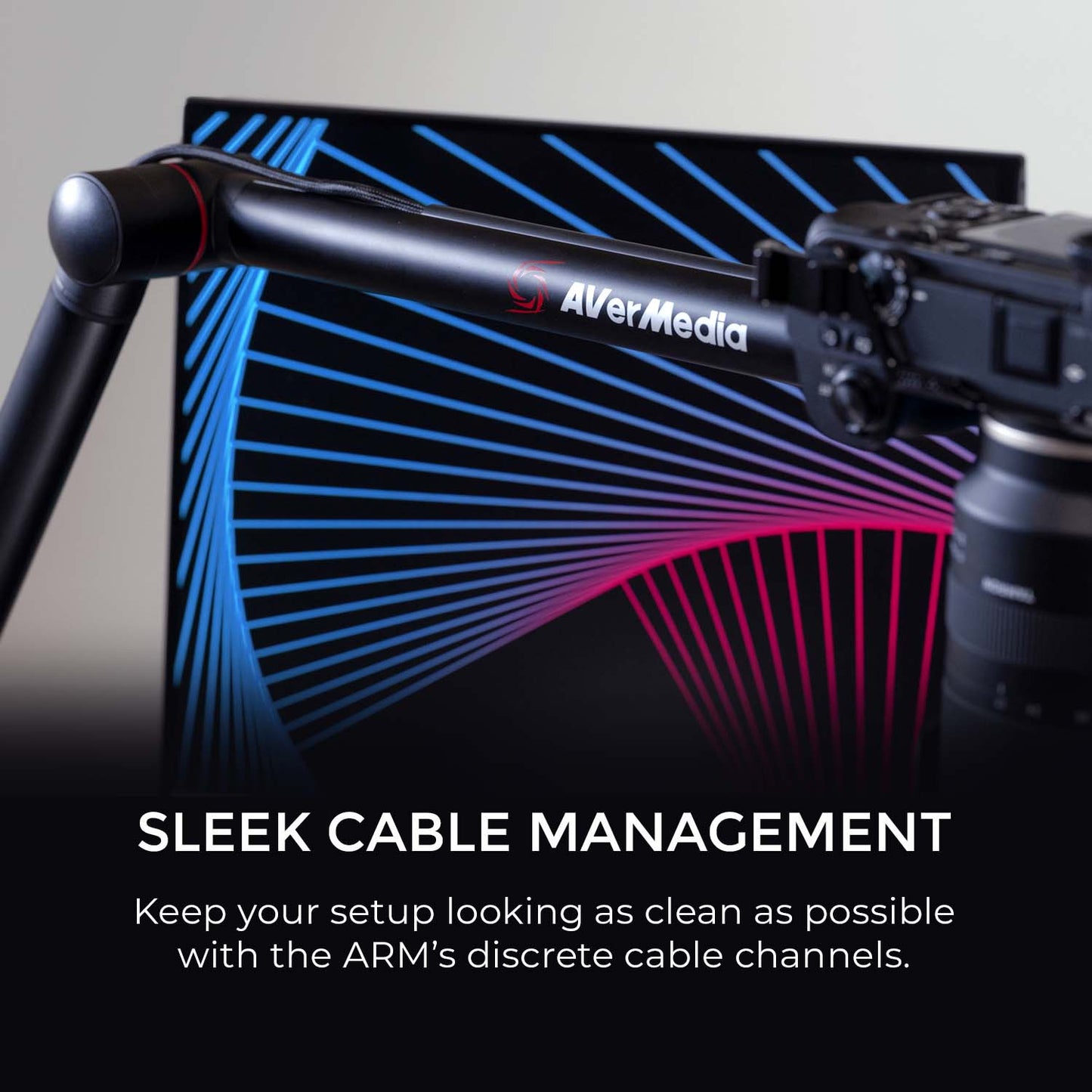 GREAT ARM BUT WITH CAVEATS
I love the flexibility of this arm which is essential for my very particular home office setup and i'm now getting rid of my Rode PSA1+ as that one is a pain in the ass when it comes to adjusting where the mic is screwed in whenever I need to switch up the orientation of the mic. with the Rode PSA1+ you have loosen it and then adjust position and hold it while tightening it up again, whereas with the Avermedia arm, you can simply rotate it. Additionally, the built-in rotating screw mechanism is such a simple but genius design which makes it way easier to screw on a mic there.
However there are some important things to consider. Go read the review by Tommy Thao to get all the details but to recap:
1) The cable management system is not designed for cables thicker than 6mm which sucks if you have thicker XLR cables.
2) The arm is weak. Im using a Shure MV7 which is a lightweight mic but I still found that I had to tighten the joint screws a little bit. Heavier mics will definitely not hold in place without tightening joint screws to the max and even then, it might not be enough depending on the weight of the mic/accessories.
3) Joint movement is tricky. I absolutely love the flexibility of this arm, however it is a bit tricky to get used to. You'll have to play with it a bit to see how it works but this wasn't a huge issue for me, I was able to figure it out for my setup fairly quickly. YMMV tho.
4) PRICE. This is where I think is the biggest problem with this arm. Its waaaaay to overpriced in its current state; this arm should be around $130. If it didnt have the issues that myself and others have pointed out then definitely would be worth the asking price. It needs to be beefed up so it can handle heavier mics, take thicker XLR cables and if they could add a built-in extension tube so the mic can be placed further from the arm, kind of like a mic stand boom arm that can extend out, I would gladly pay the asking price.
The reason I personally would like boom arm extension is that the way my desks are set up, the arm gets in the way of my monitor on my right hand side so I've added my own extension tube so I can place the arm out of my line of sight but still have the mic right in front of me with out blocking my view. Adding my own extension tube was a quick fix but its obviously not as secure as a built-in one would be. Also, since this adds weight due to being off center and whatnot, they would definitely need to beef up the joint tension system.
So overall, I love this arm because it works for my very particular setup and light weight mic, but I do believe it should be less expensive. Here's hoping theres a version 2 of this arm that address all of its short comings.
Best Ever
This is the nost versatile boom I've ever had the pleasure of using. I've had so many arms that just wouldn't bend how I wanted them to, and gave me problems holding a mic or a phone/camera/whatever exactly where or how I wanted it. Not a problem with this Avermedia arm. Love It.
Awesome Boom arm
I got this to have an adjustable boom arm for my setup and so far I'm very happy with it. I use a HyperX Quadcast and using the included adapter I was able to mount this without any issues.
You can adjust it multiple points so I was able to mount it to the left of my 34" Ultra wide and it's not taking up any screen real estate. Overall I'm happy with the look and functionality and it feels like a high quality boom arm.
The best mic arm I have ever used.
As soon as you touch this mic arm you know it is going to be sturdy and great. The joints are strong and retain tension, the multiple set up methods are versatile and perfect, and the size of the arm is bigger than anticipated. If you want something that gives you a lot of choices for arrangement and placement between over monitor, under monitor, and low profile, then this is the only mic arm out there you should even consider. This thing is an absolute beast and I love it.
It did take a bit to get it articulated the way I wanted because the hinges are very tight (which is a good thing) and when I first was trying to rotate it to go low profile I thought I was going to break it haha, but I was very wrong, I don't think I could break this if I tried. I would suggest looking at the set up manual's image to make sure you have it rotating the appropriate direction to achieve the angles and positioning you want. Something I should have done first instead of saying "I got this", spoiler alert... he did not "got this"
I couldn't give this 10 starts out of 5, but I would have. Amazing.
Sturdy, sleek mic arm.
This mic arm is built like a tank!
The joints hold firmly and won't easily budge with any standard equipment.
The back of the tube sections has a groove for cabling but won't fit anything more than 2 USB cables max. The included plastic covers do a great job of hiding the clip, but are really difficult to snap into place.
The range of motion is really fantastic and allows placement of the mic exactly where you want it. It easily reaches over my mounted monitors.
Small quibbles:
- It doesn't include a 3/8" adapter so if you want that, you'll need to acquire separately
- Would given the size, it would be been nice to have an additional 1/4" threaded mount point to attach a small light or other accessories
More Than Just a Mic Arm
Switchable Mount

5/8" Thread for Microphones
1/4" Thread For Camera / Tablet / Phone

Mounting Recommendation

You can effortlessly remove the screw adapter by using the provided crosshead hex key—turning Live Streamer ARM from mic-ready into webcam-ready in seconds.
*Disclaimer: Live Streamer Arm does not guarantee stable support for heavy DSLRs with heavy Lenses. It is recommended to use compact light weight camera setups mounted in a way that does not exert more that 1.8kg x cm torque on the end effector for best experience and safety. AVerMedia shall not be held liable for any damage caused by using the Live Streamer Arm with microphones, cameras and tablets that exceed the recommended specification.
Perfect for Every Scenario
Vertical

Horizontal
Easy Installation
Setup your microphone with minimum effort.
Discrete Cable Management
Designed with clean and tidy setup in mind, the Live Streamer Arm comes with cable management grooves built-in for a nice finishing touch.
Live Streamer ARM
A superior boom arm that takes flexibility and precision to the max for all types of content creation. Bring the best in class, verstatile mic support into your workflow.